Announcing a New Book about

Alexander Wilson the Ornithologist of Philadelphia

and His Relationship with Relatives Including the Duncans
---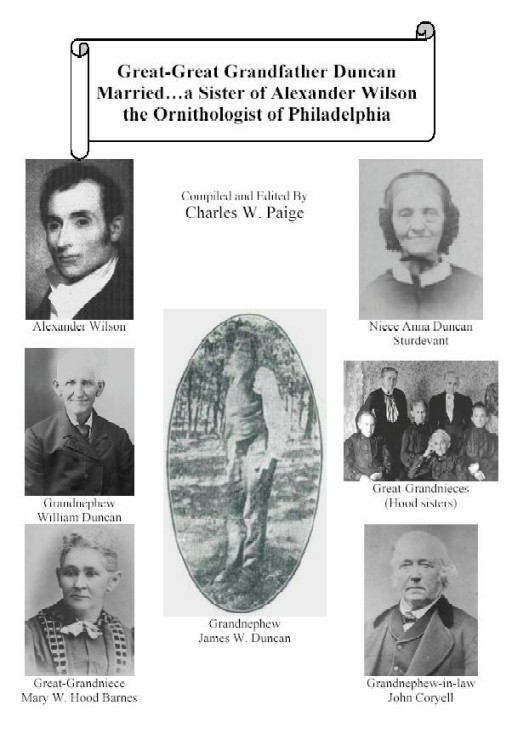 Book Cover
---
October 2007
Announcing the publication of a genealogical and historical book titled Great-Great-Grandfather Duncan Married…a Sister of Alexander Wilson the Ornithologist of Philadelphia, formerly titled The True Story of a Family in History. It expands the Hood family portion of my 1976 publication the Barnes and Related Families Abridged Genealogical RECORD. The first four chapters begin with excerpts from my Grandfather William Hood Barnes' family history memoirs
My original intention was to research only my line from John and Isabella (Duncan) McNelly down to at least my generation, which was Generation #8 from Alexander and Mary (McNab) Wilson—Isabella's maternal grandparents. Reasoning: I had clues to that information thanks to Grandfather Barnes. During thirty years of research, however, things changed. As the decades passed I uncovered/discovered bits and pieces about Isabel's parents, grandparents, and some of her siblings, and these fragments accumulated to create an increasingly coherent picture of the world in which Isabella and John lived. Connecting with some Duncan cousins in southeastern Michigan back in 2001 filled-in much information on Isabella's youngest brother James Duncan's line. This year, email correspondence with two Sturdevant cousins suddenly made the connection with Isabella's youngest sister Anna (Duncan) Sturdevant's line. These were all very important steps forward in unraveling and unveiling the Wilson/Duncan world. It finally became evident that a broader base of cousins as well as Alexander Wilson enthusiasts might be interested in and benefit from what had been gathered. (For those who may not be familiar with Alexander Wilson, one of his cognomens is "father of American ornithology," since his ornithological publications preceded those of Audubon by more than a decade.)
The length of this book is 136 pages 8 ½ x 11 soft cover with comb binding. It includes a foreword, introduction, book text, some pictures and poems, bibliography, extensive index, appendix, and family event location maps. To protect privacy no vital statistics are included for living individuals.
Click here to view two-page table of contents (102 KB PDF file). Click here to view extensive, twenty-seven-page index (198 KB PDF file).
If interested in learning more about the book or obtaining a copy, feel free to contact me at: cpaige@netmeister.net.
© 2007 Charles W. Paige
Last updated: Monday November 19, 2007